Slack
Bleemeo application for Slack allows users to receive their Bleemeo notifications directly in a Slack channel.
Here is an example of notification you can receive in Slack with Bleemeo application configured:

If you don't have Slack workspace, you can create an account for free on https://slack.com/
Setup integration with Slack​
As a Bleemeo account administrator, you need to create a new application in the integration section of Bleemeo Administration section.
Click on the button Add to Slack as shown in the example below:
Give permission to the Bleemeo application to write in your workspace channels (this is the only permission required for this application to work):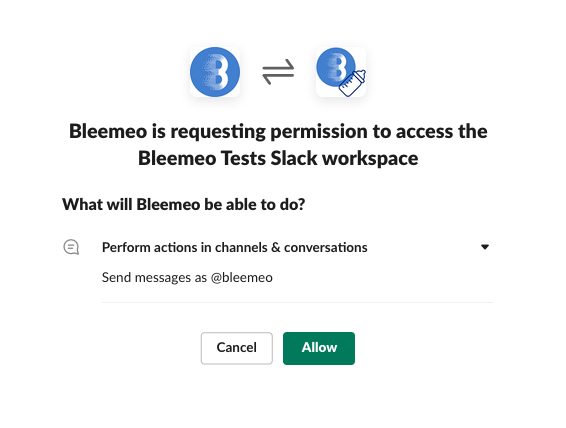 An integration for Slack is created with the name of your Slack workspace.
Bleemeo Privacy Policy is available here. No information shared on Slack will be accessed by Bleemeo.
Setup notification in Slack​
Once the integration has been setup, you can invite the application in the channels you want to receive notifications:
Finally, you can configure in Bleemeo the notifications you want to receive in Slack. You can create a new notification rule or edit an existing one to add a Slack notification.
In Bleemeo panel, go to the notifications section and either create a new notification rule or edit an existing one. On the last step of the wizard (Targets) click on your integrations (name of your slack workspace) and enter the channel name where you entered the /invite @Bleemeo command as shown below:
Test your setup​
To receive a test notification, you can at any time click on the button on your notification rule and validate that your setup works as expected.